There are many coat of Arms for Villarreal the one shown below is the one that is being commercially marketed. Even this one is depicted with a different star and I have even seen one with no star at all. There is an example below of the same coat of arms with a different star.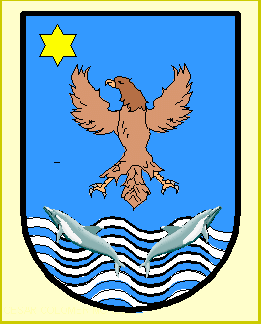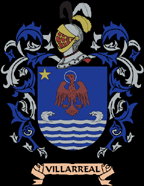 Villarreal Coat Of Arms
Gracias Cesar Colomer (Albacete, España) por los escudos!!
Villarreal.- De origen castellano. Trae en campo de azur, un águila al natural, sobre ondas de agua de azur y plata, en las que nadan dos delfines, uno a cada lado del ángulo; en el cantón diestro del jefe, una estrella de oro..
Coat of Arms Meaning and Interpretation of Symbols
The blue background indicates, justice, loyalty and charity.
The Eagle is the Eagle of San Juan (Saint John) it is the Eagle commonly used in Spanish Hearldry. It was given as a tribute to Royalty and only given to someone whom was in some way was of Royal Blood or had offered direct services to the King.
The Dolphin in mid air is used to signify, mercy or piety and is a symbol of his religious belief.

The Yellow Star in the sky signifies prudence a very important atribute to the bearer because it was located on the right hand corner of the crest.

Oral History and written History Confirms Jewish Origins for some Villarreal families. DNA testing for theNuevo Leon family is of Berber east African roots. What have you heard does your oral history reflect this. Lets find out, if you know Id like to include it in this web page.

CLICK HERE TO GO BACK TO THE VILLARREAL HOME PAGE
Here are other Villarreal Family Coat of Arms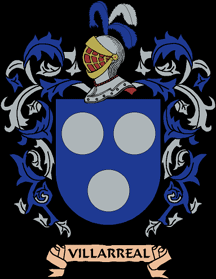 This one is said to be the coat of arms of Diego de Villarreal according to the town of El Carmen Nuevo Leon click to see link
If he did have oone this one might apply since he was a miner and the three circles are silver tokens.